Duterte's name as presidentiable rings a bell in diplomatic circle
(late upload oct 13, 2014 news)
The name of Davao City Mayor Rodrigo Duterte, who has been prodded to run for President but who always declined the challenge, rings a bell in diplomatic circle.
Co-anchor Atty. Geraldine Chiu asked the mayor about the observed visits made by ambassadors in the city during their regular TV program Sunday and hinted on its implications to the continuing challenge for him to run for President in 2016.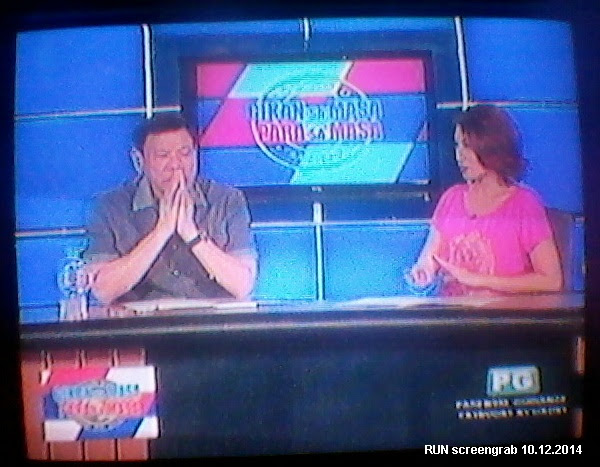 Duterte said "it's no big deal" adding that he always gave them "the same answer"- that he is not running or is not interested to run "because I have no money."
But he admitted that there is one ambassador whose name he would not divulge as saying to him that his "name in diplomatic keeps on cropping up for the Presidency."
He said he has sympathy for American Ambassador to the Philippines Philip Goldberg as he and pays respect to other ambassadors especially a lady Chinese ambassador "who keeps on coming down here."
Are the foreign dignitaries preparing for his Presidency? "I gave the same answer, same as now," the mayor said.
The mayor said that he is no fond of receiving monetary contribution from businessmen during elections except those whom he stated in his financial report to the COMELEC after each election in stressing his lack of money for a costly presidential run.
Earlier, he said that for one presidential candidate to wage a viable electoral nationwide campaign he needed at least P10-billion war chest. – Cha Monforte, Correspondent